Why Choose D3 Contracting?
Experienced
D3 Contracting has been operating in the Edmonton community since 2010 with over 15years of Experience,
& thousands of projects completed. We don't just meet expectations we exceed them. Our employees provide unmatched detailed, top quality workmanship. Aside from our amazing staff, we take the time and care to make sure even the tiniest detail is managed. There, really, is no other way.D3 is the company to call once you want a project perfectly executed, in a timely manner.
Quality Product
We use local product of the highest grade, We believe in doing a job once and doing it right. With years of experience working in Edmonton we know what material are best suited for extreme weather conditions outdoors, and what materials to use indoors as per our building codes.
Expert Advice
Dedication to our work & the years of experience under our belt is why d3 should be your choice, we fiercely  care about each one of our projects, this care drives us to prefect what we build. We offer our expert advice with every site visit. It's always a pleasure meeting new clients, and discussing all your needs.
Save Money
We Personalize each build to your life style and budget as builders who actually understand construction expenses, Insuring that you want pay for concepts or designs that are simply not practical or affordable.
Railings Are like "Icing on the Cake" for Your Decks
Whether for privacy or simply to "dress up" your deck, railings represent a great way to customize your deck and all a little of your personality to it. A deck railing can also be a place to hang plants and flowers, put your coffee mug on, or rest your feet. A railing for your deck in Edmonton is also a great way to add peace of mind by reducing the risk of falls for children or pets. Currently trending options for deck railings include:
Aluminum railings with glass
Pressure-treated railings
Railing lighting systems
Aluminum railings
Contact us to get started on planning and building your deck.
Choose the Right Material for Your Deck
One of the biggest decisions you have to make when building a deck, aside from choosing a contractor such as D3 Decks and Fences, of course, is deciding what material to build your deck with. D3 Decks and Fences typically builds decks using pressure-treated wood, composite materials, vinyl, and cedar. Each material has its advantages and disadvantages.
Contact us to find out which material is the right one for you.
Contact D3 Decks & Fences for your free quote today!
Ready to get started? So are we. Call us at 780-224-1020 to speak to a friendly and knowledgeable associate to receive your free consultation on our services today.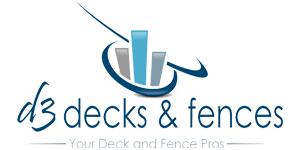 Thanks for visiting our website. Our philosophy is simple, We strive toward excellence by building our working principles into everything we deliver, and into how we work as an organization. Our continued growth is testament to our pledge to provide you with products of the highest quality and unmatched customer service, we have built our reputation on this belief. We are eager to hear from you, so feel free to contact us and we will gladly help.